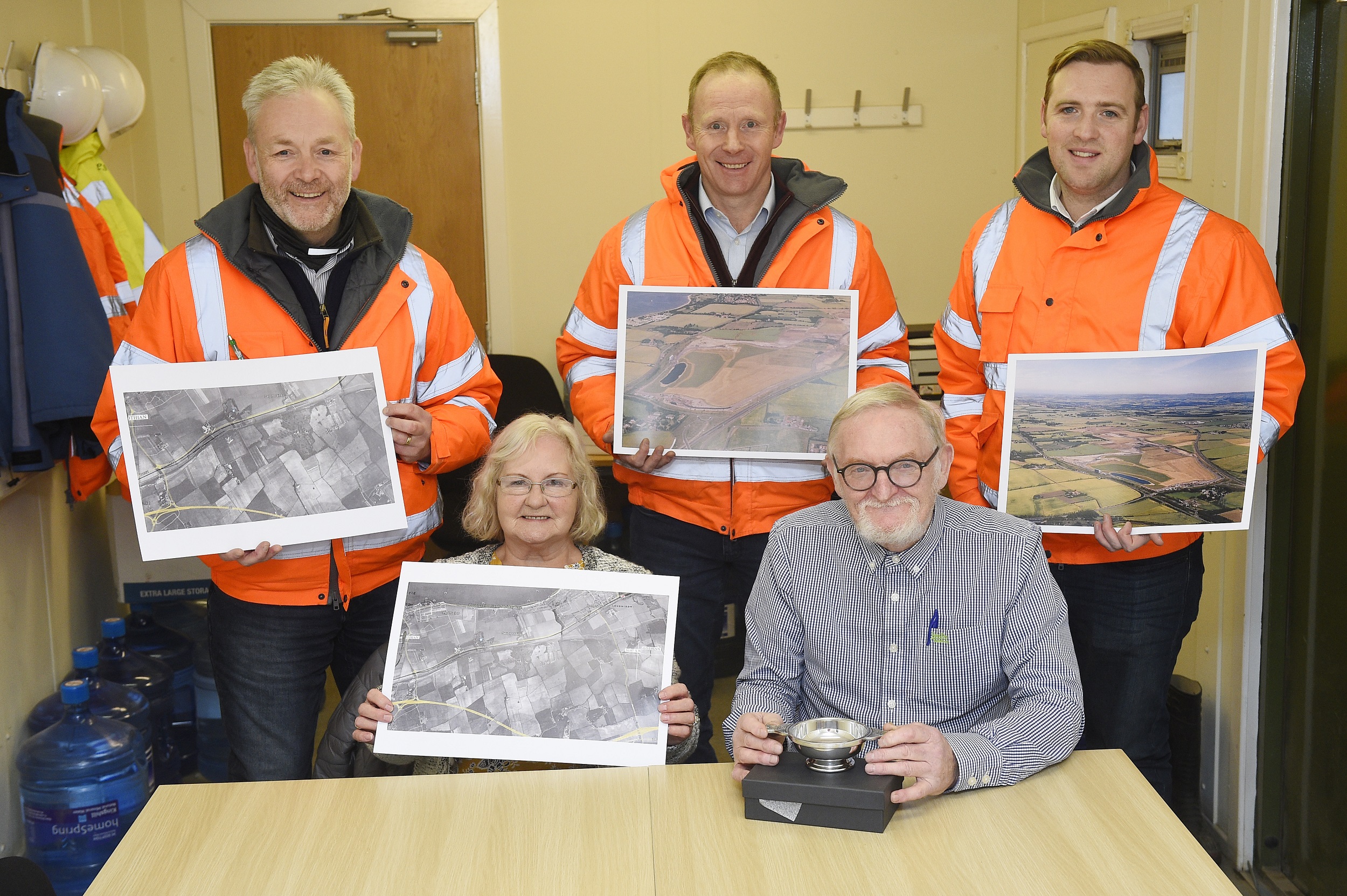 Pensioner with poignant memories of Blindwells marks milestone birthday with site visit
A man who spent much of his childhood at Blindwells in East Lothian took a trip down memory lane yesterday with a special site visit to mark his 80th birthday.
Originally a farm where the mother of Alan Ritchie was born in 1916, Blindwells was also an opencast mine before significant regeneration led to its redevelopment by site owners, Hargreaves Land, which organised the special trip.
The farmland of Alan's childhood memories is now being transformed into a sustainable new town including 1,600 new homes, paving the way for many more families to build memories within the idyllic development. The new town will also feature a primary school, healthcare hub, retail outlets, and a lochan with parkland. 480 of the homes will be affordable too.
Alan is the grandson of George Henderson, who was the farmer at Blindwells for more than 40 years from 1911, and that meant Alan and his three siblings spent many weekends and school holidays at the farm following their mother's death.
Bruce Lindsay, development director at Hargreaves Land, who manages the Blindwells scheme said: "The more we found out about Alan's links to the area, the keener we were to meet him and hear more of his special story, so we invited him and his wife Betty for a tour to tell us more."
Alan, who was born in Glasgow, sadly lost his mother in 1945 aged just three-and-a-half. He and his siblings, who were all aged between two and seven at the time, were moved into the care of the Church of Scotland in Edinburgh to be closer to their grandparents at Blindwells, where they farmed pigs.
For many years, Alan, who was separated at times from his brother Jimmy, elder sister Alice and younger sister Margaret growing up, lived at Dunforth Children's Home in Newhaven and attended the nearby Victoria Primary School, but spent many happy weekends and holidays helping out on the farm, gathering many treasured memories of the area.
Alan explained: "We used to go round the local villages on the horse and cart to collect food scraps to take back to the farm and boil to make swill for feeding the pigs. No doubt the older generations of Tranent may remember my grandfather, known locally as 'Geordie'. There was a hill across from the farm cottage where we would roll boiled eggs at Easter time. Blindwells Farm Cottage, where my grandparents lived with my aunty, uncle and cousins, was a special place that was always warm and bustling with family.
"So I'm really pleased to see the development of the area into a wonderful place for today's young families. Preserving the name Blindwells has really meant a lot to me and my family, and it's a lasting legacy to my grandfather and the other hard-working men and women who lived and worked in the area, particularly those that were part of the mining community."
The farm was sold in 1953 following the tragic death of Alan's grandfather on Blindwells Road, where he was making his way back from a family wedding, and it eventually became part of the opencast mine.
Mr Lindsay added: "We found Alan's story very poignant and wanted to show him our thriving new community here. After years of land remediation, we are very excited to be welcoming the first new residents to the site in December, marking a new era for Blindwells."
Alan, who has relatives that emigrated to Canada and the USA, including an Idaho cousin who in the 1980s managed to obtain a large stone block for his home from the remains of the farm cottage, settled in Glasgow. There he met his wife of 59 years Betty and brought up his own four children, before retiring in East Ayrshire. He now has 12 grandchildren and eight great grandchildren, and has made many trips back to East Lothian over the years, but this trip to mark his 80th birthday was particularly special.